What's going on inside the House of Commons today is no laughing matter. In fact, Minister Tony Clement told me that if I don't like his joking about the step back from democratic debate in Canada, I shouldn't read his tweets. Seriously.
@saskboy @kady Don't like my sense of humour? Don't bother with my tweets. Thx.—
Tony Clement (@TonyclementCPC) June 12, 2012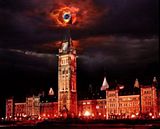 -Artists are hitting back.
Here's a good one I found on a facebook page. It inspired the following adaptation of Lord of the Rings. Stephen Harper is now Lord Of The Bills.
In the Land of Ottawa where the Shadows lie.
.@amirightfolks @kady #LordOfTheBills One Bill to rule them all (C-38) #Omnibudget—
Saskboy K. (@saskboy) June 14, 2012
.@CdnPolly @MeganLeslieMP #LordOfTheBills One Bill to find them, (C-30) #TellVicEverything—
Saskboy K. (@saskboy) June 14, 2012
.@LexyCameron @pmoharper #LordOfTheBills One Bill to bring them all (C-31) openparliament.ca/bills/41-1/C-3…—
Saskboy K. (@saskboy) June 14, 2012
.@fem_progress @ElizabethMay @cfhorgan #LordOfTheBills One Bill to bring them all and in the darkness bind them (C-10) openparliament.ca/bills/41-1/C-1…—
Saskboy K. (@saskboy) June 14, 2012
–
Bill C-38 is a very good reason to #DenounceHarper as he'd have done to himself if it was still 1994 when he opposed Omnibus Liberal bill.—
Saskboy K. (@saskboy) June 14, 2012
See Stephen Harper rise against an Omnibus budget with arguments Elizabeth May put again to the Speaker?

In case Twitter goes away, here is the text:
@amirightfolks @kady #LordOfTheBills One Bill to rule them all (C-38) #Omnibudget
@CdnPolly @MeganLeslieMP #LordOfTheBills One Bill to find them, (C-30) #TellVicEverything
@LexyCameron @pmoharper #LordOfTheBills One Bill to bring them all (C-31) http://openparliament.ca/bills/41-1/C-31/
@fem_progress @ElizabethMay @cfhorgan #LordOfTheBills One Bill to bring them all and in the darkness bind them (C-10) http://openparliament.ca/bills/41-1/C-10/